The ESSE conference 2022 will take place at Johannes Gutenberg University, Mainz, Germany, from 29 August to 2 September 2022.
ESSE-16 will be held on-site in Mainz, Germany, from August 29 to September 2, 2022. The conference will border on the Anglistentag, the annual conference of The German Society for the Study of English. You can find the conference website for the Anglistentag by following this link.
ESSE conference 2022: full programme
Click on the thumbnail below to open the full programme. Alternatively, you can also click on this link to open the programme.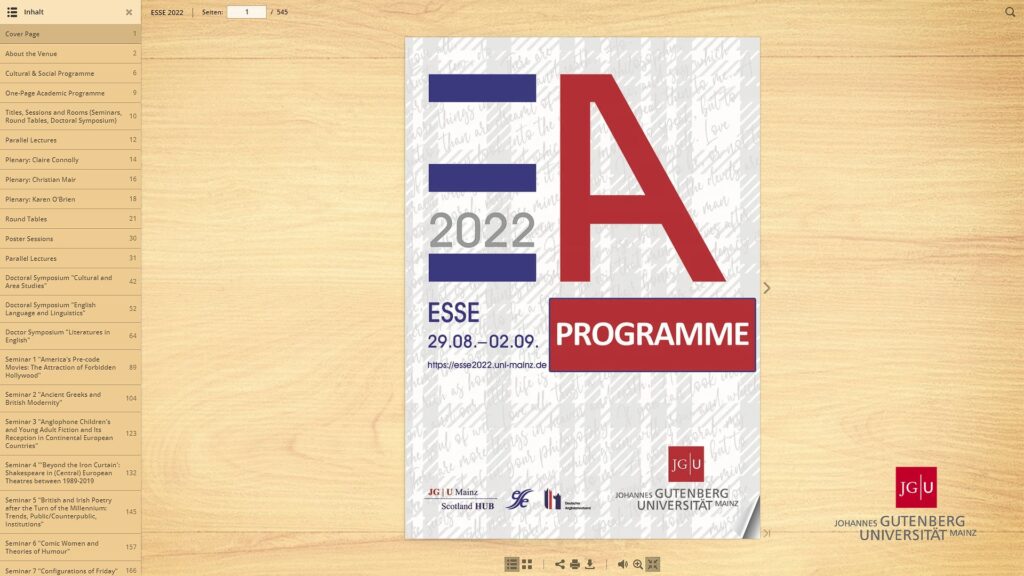 We are very pleased to be able to present three distinguished plenary speakers:
Professor Claire Connolly (University College Cork, Ireland, Fellow of the Learned Society of Wales and Member of the Royal Irish Academy), author of A Cultural History of the Irish Novel, 1790-1829 (Cambridge University Press, 2011) and Co-Editor (with Marjorie Howes) of the six volume series Irish Literature in Transition, 1700-2020 (Cambridge University Press, 2020): Improving Ireland: Maria Edgeworth to Sally Rooney (click on the link for the abstract)
Professor Christian Mair (Chair of English Linguistics, University of Freiburg, Germany), author of Twentieth-Century English: History, Variation and Standardization (Cambridge University Press, 2006): Global English: 21st century linguistic and cultural trends (click on the link for the abstract)
Professor Karen O'Brien (Vice-Chancellor and Warden, Durham University, United Kingdom, formerly Head of the Humanities Division, Oxford University, United Kingdom, Fellow of the Royal Society of Arts), author of Women and Enlightenment in Eighteenth-Century Britain (Cambridge University, 2009): Staying Global: New Challenges and Strategies in British Higher Education (click on the link for the abstract)
About Mainz and Johannes Gutenberg University
Mainz is the capital of Rhineland-Palatinate and the seat of the largest university in the West of Germany, Johannes Gutenberg University, with around 32,000 students from 120 countries. The university was founded in 1477 and newly founded after the Second World War in 1946. English Studies is a large department of around 3,000 students and 100 members of staff. Mainz is easily reached by air via Frankfurt Airport (around 25 minutes by local train), train, or road. It boasts Roman ruins, an intact medieval old town with a large Romanesque cathedral, and an enviable location on the river Rhine. Its most famous son is Johannes Gensfleisch, also known as Johannes Gutenberg, one of the inventors of the printing press, to whom an exciting museum in the city is dedicated. The region is also famous for its wines, which is sold at reasonable cost in many of its restaurants and wine bars.
We look forward to welcoming you there!
To learn more about Mainz: Landeshauptstadt Mainz: Portal page | Homepage
To learn more about Gutenberg University: Welcome to JGU! (uni-mainz.de)